2014 Dunfillan Cuvée, Sonoma Valley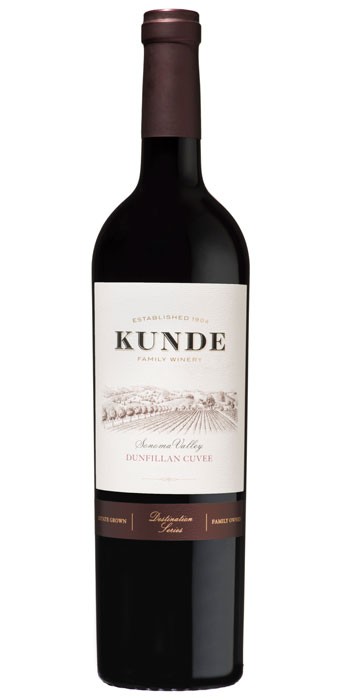 Named after the original winery built on the Kunde Estate in the late 1800's, our Dunfillan Cuvee is a bold Cabernet Sauvignon and Syrah blend.
Wine Profile
Tasting Notes
Wine Club Exclusive Cinnamon, dark chocolate and blueberry aromas meld with flavors of cassis, mulled spice and lavender.
Production Notes
Our Dunfillan Cuvée requires a great deal of sunshine and heat to create the rich, powerful flavors packed into this Cabernet/Syrah blend. The Cabernet Sauvignon, picked at its peak of ripeness, enjoyed a stainless steel fermentation, was pumped over two times per day, and had a long 30 day soak on the skins. The Syrah was left on the vine until the skins started to get dimples of dehydration. Once picked, it was fermented in one-ton open top bins to get maximum extraction through punching down the cap. The wine was aged for 21 months in oak—the Cabernet in French and the Syrah in American; the final blend in 32% new oak. The finished wine was bottled in July 2016.
Winemaker Notes
"This delicious and complex red blend combines the tannins and structural elements that are so great from Cabernet Sauvignon and the rich dark fruit components from Syrah that make it an interesting grape. The combination of these two varieties creates a full flavored wine that is sure to break the ice at your next social gathering."
Wine Specs
Appellation
Sonoma Valley
Harvest Date
October 1 thru October 17, 2014